Register Today
Start earning money from your extra space!
Why Register with Room For Rent?
Make Your Spare Space Pay
If you have a spare room turn it into income by offering a student, intern or worker your room for short or long periods?
Why Room For Rent?
It's 100% FREE for hosts and we connect 1000s of guests from around the world with 1000s of hosts.
Fantastic Connectivity
Room For Rent offer great, easy to use tools to facilitate a smooth and satisfying experience.
The Room For Rent Process
1. List Your Room
Enter all the details about your room. Add great pictures to make your listing really attractive. Give guests useful information about you, your place, transport options.
When a guest enquires about your room you get all their details before deciding if you're both a great fit.
2. Welcome Your Guests
You communicate directly with your guests and arrange arrival and departure dates. If you offer additional services such as Full Board, Airport Transfer, etc. you can discuss all of these with your guests before they arrive.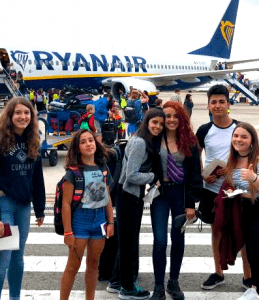 3. Earn Money
Instead of leaving your spare rooms sitting around you have the opportunity to make them work for you.
You decide how much you want to charge and your guests will pay you directly during their stay.
Keep Everything Under Control
Frequently Asked Questions
How do I list my place on Room For Rent?
Register for free as a host by clicking here.
Once you have registered as a host you can add as many listings as you like.
When adding your listing you decide:
When you want to make your room available
What type of guests you want to accept
How much you want to charge
Whether or not to add a security deposit
What your house rules are
How do payments work?
When a guest wants to make a booking they pay Room For Rent a booking fee.
The payment for your room, security deposit, or any extras, is made directly to you by the guest.
Generally for longer stays guests will pay you on a monthly basis and you can decide if you would like to receive that payment in advance or in arrears.
You have full control over how and when you receive your payments.
How do I receive booking requests?
When a guest views your listing and decide that they would like to stay at your home they complete a booking request form.
When the form is submitted you immediately get a Host copy by email which includes:
Guests name, gender, date of birth and nationality
Proposed arrival and departure dates
The reason for their stay in Ireland
Any additional information about dietary requirements and allergies (if any)
What happens next?
When a guest completes a booking request form Room For Rent administration also get a notification.
As we have a personal relationship with many of our hosts we will often spot where a guest and host are not a good match.
For example the guest may be male and, although you have indicated that you only accept female guests, they have still submitted a booking request. We will then contact the guest and recommend an alternative homestay.
If we don't hear back from you (maybe you have missed the email notification?) we will contact you to find out if you would like to host the particular guest.
What happens once I accept a booking?
Once you have accepted the booking we will contact the guest and request payment of the Room For Rent booking fee.
Once the booking fee has been paid we will then forward your contact details to the guest and we will give you the guests contact details.
You can then communicate directly with the guest regarding arrival, payment, etc.
If I'm not happy once the guest arrives?
We're all human and for various reasons a guest and host may not see eye to eye.
If you decide that you don't want to continue with a guest booking we will make every effort to accommodate the guest with an alternative host.
Do I have to collect my guest on arrival?
No.
For adult guests they will need to find their own way to your homestay. You may offer transfer to or from the airport at an additional charge.
If you are hosting student guests under 18 we will arrange transfer to your homestay.
How can I cancel a reservation?
Sometimes something happens where you can't go ahead with a previously agreed booking.
You can contact Room For Rent and we will try to find an alternative host for the guest.